Moviebox Pro Update – New Changes to Download & Installation Methods
Moviebox Pro Update – Moviebox Pro is one of the best sources to watch the latest movies and TV Shows for free. It is a famous app for both iOS and Android devices and boasts exclusive support for PC devices. This Movie app is versatile, catering to a wide array of user interests. It has all the catchy features any film buff would yearn for. We will not describe Moviebox Pro in this post, as you can refer to our previous ones for that purpose.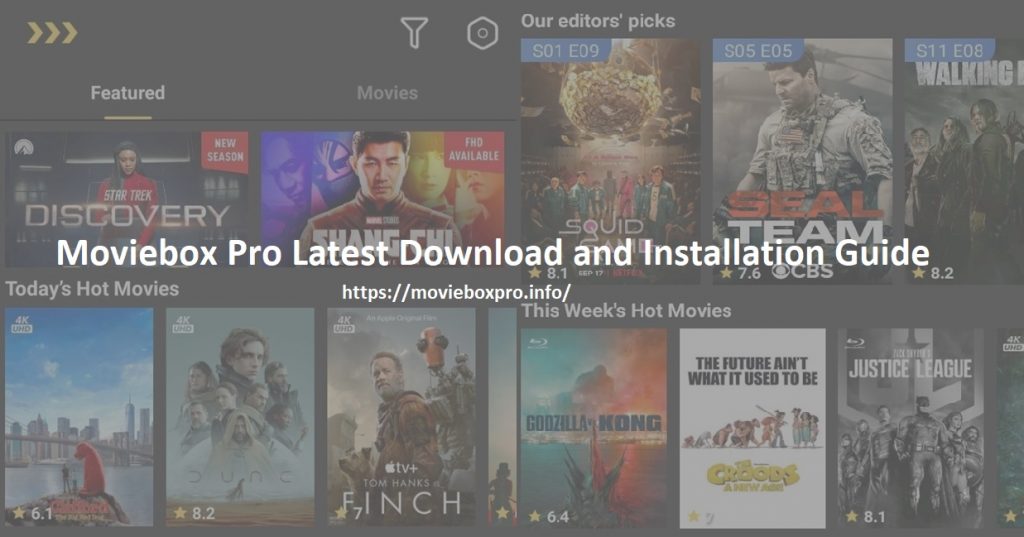 For instance, we suggest you look up our informative post – https://movieboxpro.info/moviebox-pro-2021/moviebox-pro-2021-download-free/ for detailed information regarding the app. There have been some changes in how the app is installed on iDevices and Android devices. This post concerns such changes and have been published to keep all our existing and new readers informed. We invite you to read until the end, so you know where the revisions have been made.
Moviebox Pro iOS installation Update
With new revised installation methods, you can quickly get Moviebox Pro for your iPhone, iPad, and iPod Touch device. This post will focus on how this installation is possible in three simple ways. We will be using new tools to get this done without any hassle. It is vital to notice that these download and installation methods are the only possible means of getting Moviebox Pro on your iDevice. The Movie app developers have remarked that this condition is temporary and unavoidable due to policy restrictions.
Moviebox Pro Android and PC Devices Installation Update
This post focuses on installing Moviebox Pro using Sideloadly, Cydia, and Web browser or third-party player. We will also learn how to download and install Moviebox Pro on Android and PC devices according to newly updated instructions from the developers. You can dump your previous knowledge on Moviebox Pro installation methods and adopt what we will bring up in this post. Let's look at each technique one by one.
First of all, we come across Sideloadly, a successful way to install Moviebox Pro on your iDevice, as explained below.
Install Moviebox Pro on iDevice with Sideloadly
First Install Sideloadly on Your PC/Mac
Moviebox pro was used to be sideloaded with Cydia Impactor, but now Sideloadly can be used for the process instead. Sideloadly can be introduced as a Windows /Mac software that permits you to install apps on your iDevice securely without jailbreak. The necessary condition is that Apple allows anyone to debug apps on their device within seven days, but after that, expiration occurs.
2. Next, you need to download Moviebox Pro Latest IPA Installer; follow the below link to get Moviebox Pro IPA File.
Click here to download Moviebox Pro Latest IPA
Then you can install the IPA file to your iDevice by Sideloadly
1. Link your iPhone with PC/Mac. Launch Sideloadly and drag the downloaded/saved IPA file into Sideloadly.
2. Enter your Apple ID and the password (This is only submitted to Apple Servers, so the process is safe)
3. As usual, you need to verify it using the Apple ID verification code.
4. The installation of IPA will complete in a moment.
5. Now open your iDevice and navigate to Settings>Profiles and Devices Management >Trust the Developer.
However, after this installation process is complete, you have to reinstall the app every seven days as per Apple regulations.
You only need to connect your iPhone to your PC, click the start button on Sideloadly and you are all set!
Use Cydia to Install Moviebox Pro
APT's graphical user interface for iOS is known as Cydia. It allows users to locate and install non-Apple-approved software on jailbroken iPhones, iPads, and iPod touch devices. It also refers to the Cydia software-based digital distribution mechanism for iOS apps. The majority of the software packages accessible through Cydia are free. However, some demand payment.
Download Cydia Latest Version
It is possible to use Cydia to install Moviebox Pro on your iDevice without any complex procedure. If you have a jailbroken iOS device, you can implement this method to get the Movie App. Follow the below links and the guide to get this done.
Go to APT Source – https://www.movieboxpro.app
Deb Source – https://www.movieboxpro.app/deb
Launch Cydia
Follow – Sources>Edit>Add> https://www.movieboxpro.app"
The installation will conclude in a moment.
Use Moviebox Pro Along with Third-party Apps
Since Apple has strict regulations for non-Apple Appstore apps like Moviebox Pro, you may encounter restrictions and access revokes. This situation is an ongoing issue with all unapproved iPhone apps and is a controversial factor in the cyber-democracy. The situation contrasts with Android apps which enjoy much more freedom and flexibility. For the time being, you can always rely on the web version of Moviebox Pro if you find out that the app malfunctions on your iOS device. The Web version can be incorporated with several third-party applications to fulfil some of the remarkable features. We hope to update you when a fresh update is available to install.
Follow the below steps to integrate third-party apps with Moviebox Pro
The first step is to download and install the KfPanda Player from the Appstore.
https://apps.apple.com/appk/kfpanda-player/id1460792262
Launch the App and Enter the URL as below
Name – MovieBoxPro
URL – www.movieboxpro.app
Tap on the first tab; you will see Moviebox Pro, which was entered in step 2.
Use your Google Account – you can also access the Moviebox Pro Website by logging with your Google account (If required). Locate your film, and play it
Moviebox Pro – Get it on Your Android Smartphone and Tablet
| | |
| --- | --- |
| App Title | Moviebox Pro |
| Developer | Moviebox Pro Team |
| File Size | 80MB |
| Latest Release | 10.9 |
| Release Date | 09/02/2021 |
| Type | Entertainment |
| Compatibility | Android 5.0+ |
| Root Required | No |
If you are an Android device owner, life is easy when using the Moviebox Pro app. First of all, you are free from the restrictions you get if you use an iDevice. There is no rooting involved in the installation process, and you can get the link and perform a direct installation. Yes, there are no third-party apps like Cydia intervening in the procedure. You can sideload Moviebox Pro APK to your Android via PC; however, it seems to be an odd option, given the flexibility of the Android OS to install this third-party app directly on the device. You can refer to the below simple steps to get Moviebox Pro latest Version on your Android smart device.
First of all, make sure you have enabled "Unknown Source", Navigate to Settings>Security>Turn on "Unknown Sources."
Get Moviebox Pro Latest Version from here.
Once the Moviebox Pro installer download is complete, you can tap on the downloaded app to execute it.
Follow the simple instructions and complete the installation.
Do not forget to disable the Unknown Sources Option that was enabled in the very first step. Ensure that you have installed the app without errors before disabling the above.
Enjoy Moviebox Pro on your Android, and Update when new app releases become available.
How to Launch Moviebox Pro on your Apple TV
It is so unfortunate that there is no way you can directly install Moviebox Pro on your Apple TV device. To have the app running on Apple TV, you can rely on a third-party player like TVMPlayer. This app is a high-performance player for Apple TV. You can head over to the Apple TV Appstore, search it and download from there.
How to Use TVMPlayer to run Moviebox Pro content
Use Top left button to add links and save
Choose the link added to start.
Login Conditions
You need to login by Moviebox Pro
Use Code Login for both App & Web
Login on the app is only possible with QR Code
Download Moviebox Pro on Android TV
There are various types of Android-OS based devices, including Smart-TVs. An Android TV runs on an Android OS and is capable of hosting APK based programs. Getting such an app running on a TV device or any similar gadget is similar and efficiently executed. Since Moviebox Pro is unavailable on the Google Play store, you can use the below link to download it to your TV device.
Click here to download Moviebox Pro APK Latest Installer.
Tap the downloaded file – You need to wait till the installation is complete.
You can launch the Moviebox Pro from your Android TV home screen.
Download Moviebox Pro on Mac PC (No Emulator Required)
Moviebox Pro is compatible with Apple devices that run on macOS. With Moviebox Pro on your Mac device, you can enjoy your favourite Movies and TV shows with an excellent visual immersion. Thanks to the high-quality video output of Mac devices, you can have a mesmerizing visual experience further enhanced by the widescreen. Please note that you need no emulator to launch Moviebox Pro on Mac as the app can function on its own
You can follow this link to download the latest Moviebox Pro macOS installer.
Please ensure that your mac has been upgraded to macOS 10.15. otherwise, this will not work.
Extract the compressed Moviebox Profile (Zip file).
Drag and Drop the Moviebox Pro to the Application folder
You may get an error message stating that Moviebox Pro can't be opened. Here all you have to do is click 'Open Anyway' in Security & Privacy in Preferences.
Download Moviebox Pro on Windows PC (No Emulator) (32-bit & 64-bit)
Moviebox Pro can also be launched on Windows PC. You don't need a third-party tool like an emulator to make this possible. Unlike many other free movie apps that depend on emulator support to become functional on PC, Moviebox Pro relies on its exclusive PC version. Both 32-bit and 64-bit versions of the Moviebox Pro Windows PC installer is available. Below we will provide both versions to download, install and enjoy Moviebox on PC straight away.
First of all, please check the version of your Windows PC by referring to system properties. The installer of your download should match the bit version (either 32-bit or 64-bit) of your Windows PC. The app is compatible with Windows 7/8/8.1/10 and above.
Now launch the installation package and select the installation target
You can resume installation by following the simple instructions. You will come across a prompt which inquires if you want to allow the app from an unknown publisher to make changes to your device. It is safe to click yes at this point (your installer file should be from a reliable source, follow our links for safety)
The installation will conclude in a Moment
Now you can launch Moviebox Pro from your desktop.
Final Thoughts
In this post, we have discussed the latest Moviebox Pro Update and installation methods, which are device-specific. Due to specific regulations coming from OS developers, Moviebox Pro has to change how it delivers the app to users who access it from various devices. Some of the old installation methods have been thus revised and replaced.
It is an excellent practice to follow the latest installation methods to avoid service interruption. Since you are getting High-quality Movie and TV show content for free or at a low price (compared to Netflix or Amazon Prime), you are likely to face situations like this. However, Moviebox Pro developers serve users with stellar service and never disappoints.
Moviebox Pro is one of the highly decorated free Movie apps with an enthusiastic community of developers and followers for a free service. Due to this vigorous spirit, the platform seems to flourish without abatement. We ask our loyal readers to stay tuned to our site for more exciting developments and the latest content related to Moviebox Pro.