Download Updated Moviebox Pro Apple TV and Android TV Version for Free
Moviebox Pro Apple TV and Android TV Updated – Moviebox Pro is one of the best choices to watch or download Movies and TV shows for free. It was primarily focused on Mobile Platforms such as Android and iOS.
However, with fame taking Moviebox Pro's side, the developers had to extend support for more devices like Windows PC, Apple, and Android TV platforms.
Moviebox pro has some desirable features which have set the program distinctly apart from many similar services. We will state some of these standards for all the first-time readers of this site and the Moviebox Pro service.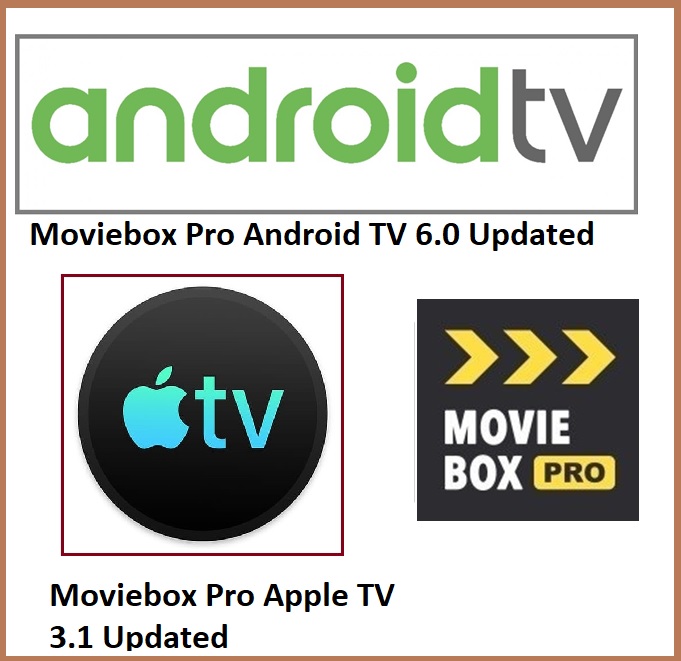 Download Moviebox Pro Apple TV
Best Features of Moviebox Pro
View the latest Movies and TV shows wherever and whenever you want with zero subscription fee.
You can explore a massive library of Movies and TV shows estimated to be over 15000
New video updates everyday
Can download your favorite content with high speed – Global high-speed CDN network is utilized for the process)
No regional or geographic obstructions and censorship problems.
Multi-language subtitle availability.
Support iOS, Android, Apple TV, and Android TV
Free and VIP version.
It will not be an exaggeration to call Movie box Pro is the YouTube of Movies and TV shows. That is simply because you can obtain thousands of Movies through this app, just like using YouTube to watch and download your favorite videos. 
Moviebox Pro download Latest version and it is flexible in terms of compatibility and usability. It actively functions on big screen devices like Apple TV and Android TV- the two platforms we are going to dwell on in this post.
Movie box Pro for Apple TV
This facility is only available for Moviebox Pro VIP users; please click here to read the benefits of becoming Moviebox Pro VIP. Being VIP permits you to indulge in more impressive perks of the app.
It is very easy to get registered as a VIP, and there are budget-friendly VIP subscriptions that you can try.  The below information will be helpful if you are planning to use Movie box Pro on your Apple TV.
Moviebox Pro Apple TV Features
A larger and wider experience – sit back and relax; you can now enjoy your favorite videos on the big screen. Greater entertainment is guaranteed with your Apple TV's large screen.
Movie box Pro for Apple TV is available only for Apple TV 4 and Apple TV 4k or newer. This exclusivity entails the best performance for the best immersion.
No need to have your phone by your side as this version of Moviebox Pro is standalone, which means it is operable in total independence.
Higher bitrate and higher clarity (Up to 30MB/s)
Use one account to log in to all kinds of devices.
How to Install Movie box Pro on Apple TV
Moviebox Apple TV bTestFlight Method
Click on the link to enter TestFlight.
Execute the MBPTV app, navigate to the last tab item.
Select the 'Get Code to Sign In or 'Scan QR code to Sign In.'
If 'MovieTrailer_MBP is not added to TestFlight, please exit TestFlight and Click on the link to try again.
Alternative Method to Install Moviebox Pro on Apple TV (Windows/MAC PC Required)
The first step is to locate Apple Configurator 2 and install this program for Windows/MAC PC.
Next, open the installed application and link/pair it with your Apple TV.
Then Click the Add button & pick the IPA file (MovieboxPROTV.ipa) à Install the application.
Check the process, and you will see the application is installed on your device.
You must verify the application under settings>General>Device Management>Verify.
Finally, open the TV versionàclick account in the top of right hand>You can see QR code.
With the final step, you can access Movie box Pro features on your Apple TV.
Movie box Pro Apple TV Latest Version – Download
Movie box Pro for Android TV
You can launch Moviebox Pro on your Android TV quickly. There is no hardcore method to have it running on your Android TV device. It serves you with big screen immersion of your most loved movies and tv shows. You will get a better view of the video content as you can relax on a couch or bed.
Movie box Pro for Android TV Features
Compatible devices – Moviebox Pro supports all Android compatible devices. Android 4.3 and above are supported.
Run the app on Fire TV Stick, Mi box, SHARP AQUOS, SONY BRAVIA. Other brands include AirtTV, TCL, SKYWORTH, Hisense, SONY, SHARP.
No Mobile Phone is required to setup Moviebox on your Android TV – This is a standalone app, and you do not need your phone to control it.
High Bitrate and Higher Clarity (Up to 30MB/s)
A single account to log in to all kinds of devices.
How to Install Movie box Pro on Android TV
Download Movie box Pro Android APK for your TV Model
Tap application You will see the app installed message at the end of the installation process.
Moviebox Pro Android TV Latest Version – Download
Wrap UP
Moviebox Pro app has undergone so many revisions and updates from where it first started. It has become one of the most used Free Movie platforms, and it continues to gain more fans. When big names like Netflix, Amazon Prime, or HBO do not meet the budget user's demands, Moviebox Pro has risen to dismantle that trend.
You will see how Moviebox Pro VIP packages are lined up to facilitate even the low-end user. With Apple TV and Android TV compatibility, Moviebox Pro thrives in a demanding market. It is essential to observe that both versions of the Movie box Pro app designed for Android and Apple TV devices are standalone programs. They don't need your mobile phone to function like most other apps.
Zinitevi is the best movie box pro alternative app for android TV. No need registration download and install for free.